Scuba Lodge Curaçao is located in the colorful and lively neighborhood of Pietermaai. This district is well known for its trendy spots, cozy cafes, amazing restaurants and more. Below is a comprehensive list of everything within a 10-15 minute walking distance from Scuba Lodge Curaçao.
Restaurants
There is a wide range of cuisines available just a few steps away from Scuba Lodge to suit all your dining needs. From quaint cafes to upscale dining, you won't even have to dine in the same place twice during your Curaçao holiday. Curaçao boasts of its culinary diversity when it comes to restaurant selection and the great thing about exploring the amazing food culture on this island is that you won't even have to go far.
Ochenta Cocktail Bar
Cafe Old Dutch
Mundo Bizarro
Ginger
BijBlauw
Kome
Cristal
Mosa/Caña
Rozendaels
Fishalicious
The Pen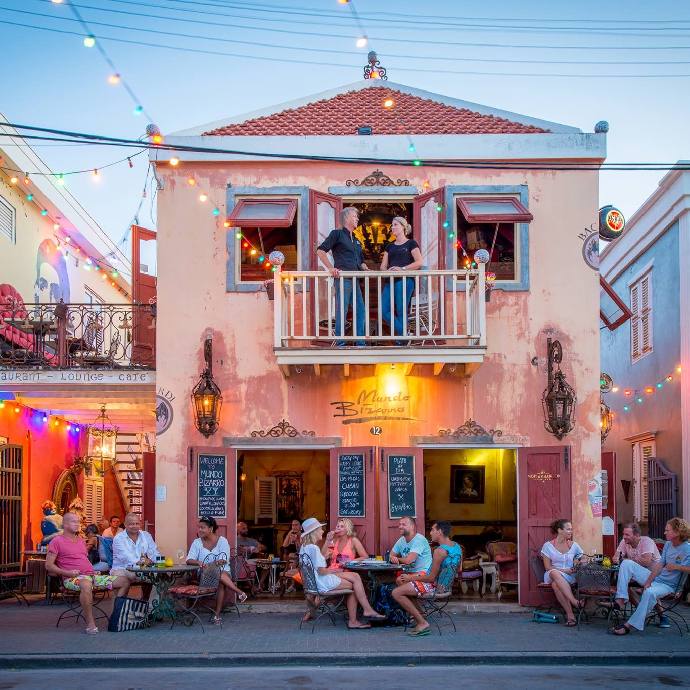 Bars
Pietermaai has a great nightlife scene. Just a short stroll away from Scuba Lodge are three great bars where you can enjoy exquisite cocktails and enjoy amazing live music.
These bars are great spots to hang out and meet with the island\\\'s artists and musicians while kicking back and letting loose to some awesome tunes.
Ochenta Cocktail Bar
Bluebird Gastro Pub
Blues Bar & Restaurant
BKLYN
Blackjack
Mr. Porter Street Cafe
OBaAR Brazilian Lounge
Van Gogh Coffees – Terrace – Drive Thru
Supermarkets
Everyone still needs their creature comforts while on vacation. For basic needs and supplies, there are four shops located less than a fifteen-minute walk away from Scuba Lodge.
If you fancy doing a bit of your own cooking or just want to pop in to get a few snacks, these supermarkets are sure to have what you need.
Zeven Convenience Store
New Plaza Supermarket
Caribe Supermarket
Boulevard Marketplace
Banks/ATMs
It\\\'s always good to know that there are ATMs nearby if you need to withdraw some cash.
Vidanova Bank ATM
Maduro & Curiel\\\'s Bank ATM (3 locations within a 10-minute walk)
Pharmacies
Pharmacies are also close by if you need anything from basic first aid to medication.
Botica Juliana
Botica Plaza
Botica Popular
Tourist Spots
Some of the best tourist spots of Curaçao are just a few steps away. Take a leisurely walk around the district and see the historical sights of the island.
Curaçao National Library
Queen of the Most Holy Rosary Cathedral
Old Market
Curaçao Statue
Queen Emma Bridge
Scuba Lodge Curaçao is located at the center of it all. The convenience of being this near to almost anything you would need ensures a hassle-free holiday that you are sure to enjoy.