Over the years, Curacao has welcomed tourists from all walks of life. Whether you're just looking to unwind or craving adventure, you can bet the island can give you what you want. One of the things that unite tourists in this summer paradise is their fondness for good food. As you can rightly guess, the entire island is adorned with stunning food finds, but we've narrowed it down to the best ones.
Temari Sushi
Temari Sushi is located right in the center of Willemstad. This quaint restaurant has made a name for itself by using the freshest ingredients on the market and boasts of quality service every time you come to visit. Aside from the traditional Japanese menu, Temari Sushi also serves a number of vegan options. Vegans can take their pick out of the seven available vegan sushi rolls on the menu and dine to their heart's content.
Roast Cannibal Rumbar
This rustic tapas bar has seating on a huge wrap-around porch which makes it ideal for groups and get-togethers. Their menu features steaks, ribs, and chicken and is designed with carnivores in mind. However, Roast Cannibal Rumbar also serves vegetarian options including burrata, mushroom truffle ravioli, and smoked watermelon tartare.
Los Caballeros (Temporarily closed!)
This intimate and gorgeous beachfront spot is the epitome of warmth and comfort from its aesthetic to its food. They serve primarily Latin American-inspired dishes, barbecue specialties, and oven-fresh pizzas. Combine that with their delicious cocktails, while feeling the wind in your hair and sand beneath your toes and you have the recipe for a perfect day.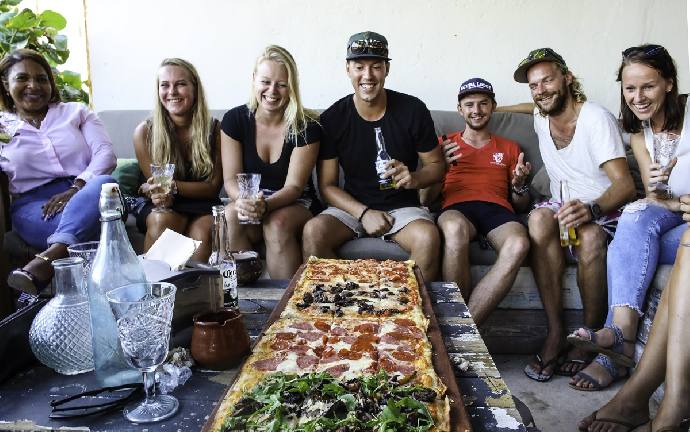 Kome Restaurant
A mix and match of various cuisines around the world, Kome's menu has influences in classical, traditional, and modern cooking of Caribbean, international, vegetarian, vegan, and gluten-free dishes. Kome boasts of their locally sourced ingredients which ensures that whatever is served is always tasty and fresh. If you want to dine in a sophisticated restaurant with value for money, make sure to pay a visit to Kome.
De Heeren @ sea
An impressive and extensive menu is what awaits diners at De Heeren @ sea. With a stunning ocean view and an even better sunset view, this restaurant ensures a quality dining experience for everyone. They serve a variety of dishes ranging from salads to burgers with outstanding hospitality and care from the staff. Vegan and vegetarian options are also available on the menu.
After a long day of snorkeling, diving, and beach hopping, relax and treat yourself to one of the 5 best restaurants in the city.