Composed of an award-­winning team of professional divers, Scuba Lodge's dive center provides an array of diving tours and packages for people from all walks of life. The highly skilled team strives for nothing short of professional, safe, fun and friendly diving experiences.
The day trip begins at 8:30 am at the Scuba Lodge dive center. Once everyone is set and packed up, we will start our trip by making our way to the Caracasbaai.
After a quick stop to get some fresh fruit to snack on during the trip, the official first stop is at the viewing point overlooking Jan Thiel. At the viewing point, an experienced guide will provide you with historical facts about your current surroundings and will give some interesting insights into Curaçao's heritage. This is a great way to get to know the island a little bit better.
The next destination will be the Tugboat. A popular snorkeling spot that highlights the sunken boat that can be seen laying on the ocean floor. The tour stops here for 2 hours for you to snorkel and explore to your heart's desire. In and around the sunken Tugboat fishes such as lobster, Mediterranean moray or roman eel, snapper, grouper, trumpetfish and various schools of brightly colored fish can be seen.
The beach offers facilities such as toilets and lockers for safekeeping, and you will be offered a drink and a light snack during this stop.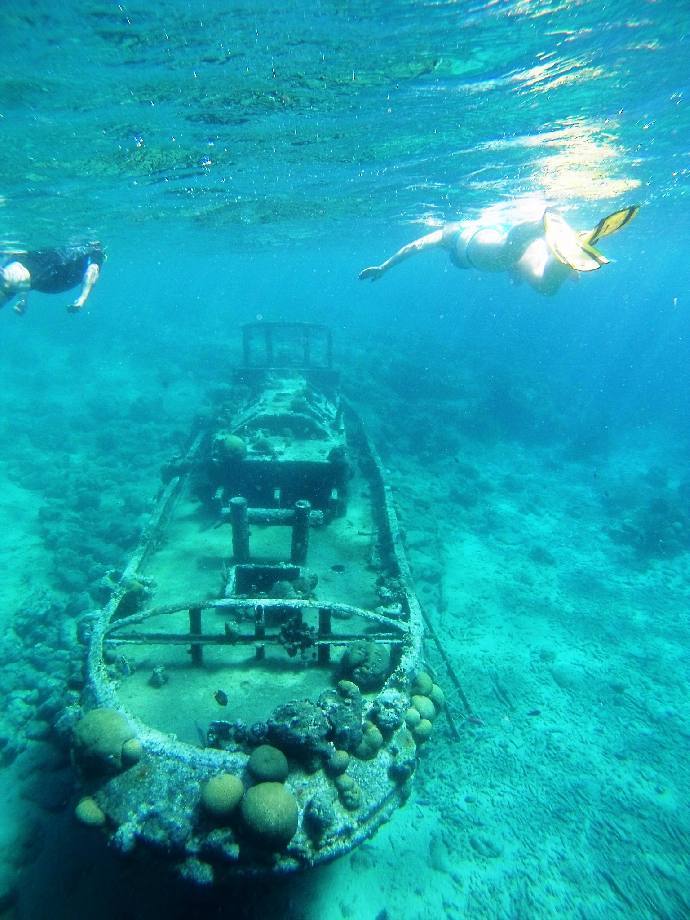 The next stop is 'Directeurs baai' (Director's bay) for a duration of another 2 hours. The corals in Director's Bay come alive with vibrant colors due to the shallowness of the water. This historic landmark was once a private beach exclusively used by the Directors of the Royal Dutch Shell Group and the Dutch Royal family. Now, of course, the beach and its surroundings have been opened to the public.
Before heading back to the dive center, the tour takes you to a local 'Batidos' stand. Here, you can choose your own fruits to be blended into a delicious smoothie perfect for capping off the day on a refreshing and colorful note.
This trip is the ideal experience for those looking to explore the island through a hassle­free, educational adventure!
So what are you waiting for? Contact us today to reserve your spot on our Tuesday snorkel trip!